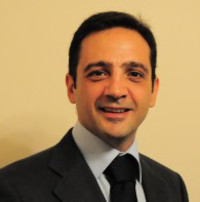 He obtained a PhD in Economics and Finance from the University of Manchester (UK) and a PhD in Economics from the University of Naples Parthenope. Since 2013 he has been full professor of Economic Policy at the University of Naples Parthenope and since 1 June 2015 he has been Director of the ISSM.
His research interests are centered on on themes of Economics of Development and Economic Growth and on themes of of Monetary and Financial Economics. In particular, in recent years dealt with the relationship between the black economy and development and the relationship between corruption and economic growth. È author of numerous publications and articles in national and international journals, and international.
He has been a visiting professor at several universities, including the University of Wisconsin Milwaukee (USA), the University of Santiago de Compostela (Spain) and the University of Manchester (UK) and has been a member of several Scientific Councils of national and international institutions. He has coordinated several research groups in national and international projects and has been responsible for a project funded by the European Commission entitled "Rethinking Finance for Stability and Growth". He has contributed to the organisation of numerous conferences and workshops and has presented his scientific work at numerous national and international conferences.
From 2013 to 2015 he is coordinator of the Doctorate in "Governance, Management and Economics" of the University of Naples "Parthenope" and he has supervised several of the following projects PhD students. He has extensive experience of teaching on subjects such as of Macroeconomics and Economic Policy at both Bachelor and Bachelor level who holds a doctorate and has taught at Italian universities (University of Naples Parthenope, Federico II) and foreign (University of Santiago de Compostela, Manchester, Liverpool, Wisconsin).